THE COMPLETE TAROT AND ORACLE JOURNAL
The award-winning Complete Tarot and Oracle Journal is the ultimate solution for those who struggle with keeping track of their tarot and oracle readings. With this dedicated journal, you can consolidate all your notes, spreads, and interpretations in one beautiful and practical place. The journal is divided into four sections, providing space for your card of the day readings, various card spread suggestions, your own custom spreads, and a section for recording all your readings with suggestions for what to note. Whether you are an experienced reader or a beginner, this journal is a guide and a notebook, serving as a valuable tool for anyone looking to improve their reading skills and track their progress.
ISBN: 9781922579621
Published: Nov/22 (AU/NZ), Sep/22 (US), Nov/22 (UK) 
Format: Hardback
Extent: 208 pages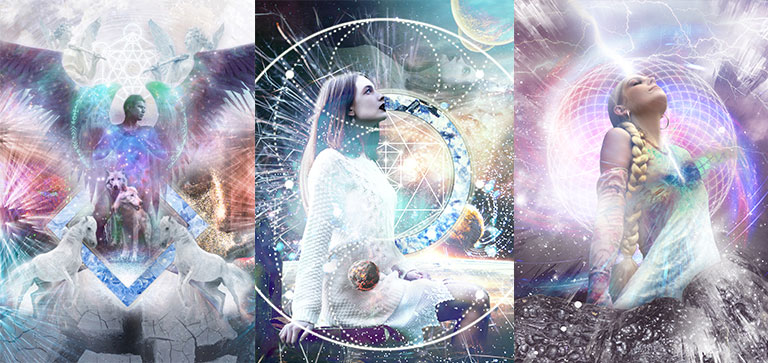 There are always multiple ways to look at any situation in life. There is never only one answer to a problem, and what we see when we look at ourselves in the mirror barely reflects what others see in us.
Through her art, Selena Moon aims to bring awareness to the multiple dimensions of our lives and challenge the image we have of ourselves, the world, and how we all fit into the picture. Her visionary mixed media art encourages people to find new perspectives and feel inspired to grow through reflection. She hopes to inspire others to see beyond the surface and explore the complexities of our experiences, emotions, and relationships through her thought-provoking art.
Selena Moon is an award-winning designer, artist and author. She was born and raised in Sweden and currently residing in Sydney, Australia. She has been fascinated by art, drawing, and technology since childhood, and her passion for creativity led her to create a number of card decks as well as a journal for card readings. 
With a bachelor degree as well as years of experience in graphic design , she has honed her skills in layout, illustration, and digital art. Selena's artistic style is a unique blend of digital collage, drawings, and line art, resulting in vibrant, detailed, and bold imagery.
Inspired by diverse sources, Selena enjoys exploring new avenues to avoid being confined to a particular style or technique. Her multidisciplinary approach allows her to combine various skills and techniques to create unique pieces of art. In addition to her artistic endeavors, Selena has a keen interest in psychology and draws on her knowledge and experience to create products that inspire and motivate people in their lives.
For Selena, the driving force behind her art is the belief that it can positively impact people's lives. She is motivated by the idea that her creations will have a purpose and the potential to affect others in a positive way. With her passion for art and dedication to exploring new creative avenues, Selena is a versatile and accomplished artist whose work is sure to captivate and inspire.
Email: hello@selenamoon.co
Sydney NSW Australia 2000